Enviornmental/Geological Sciences
Internships/Career Opportunities
Pleas see below for opportunities that may be of interest to Geological Sciences majors.
Deadline: February 20, 2020
We invite your students to apply for the University of Iowa's Summer 2020 NSF-funded Research Experience for Undergrads (REU)!
This summer research experience is focused on the sustainable provision of clean water and food in a Midwest agricultural watershed. Students engage in team-based approaches, under the mentorship of expert faculty, to examine human-environment issues critical to a sustainable society. Conduct field research using cutting-edge geospatial technologies and state of the art facilities. Additional details can be found on the attached flyer.  Program dates are May 25 – July 31, 2020.
10-Week Program Benefits Include:
$600/week stipend ($6,000

 

program total)
Per diem meal allowance
On-campus University of Iowa housing
Roundtrip paid travel expenses
Multiple fieldtrips and research methods workshops
Eligibility:
Enrolled in a degree program for a bachelors or associate degree
Interest in pursuing graduate school or a career in research
Be a U.S. citizen or permanent resident
We especially encourage students from underrepresented groups to apply
No formal research experience needed
Applications are due February 20, 2020. Additional information and the application can be found here.
For questions, email program directors Marc Linderman (marc-linderman@uiowa.edu) or Adam Skibbe (adam-skibbe@uiowa.edu)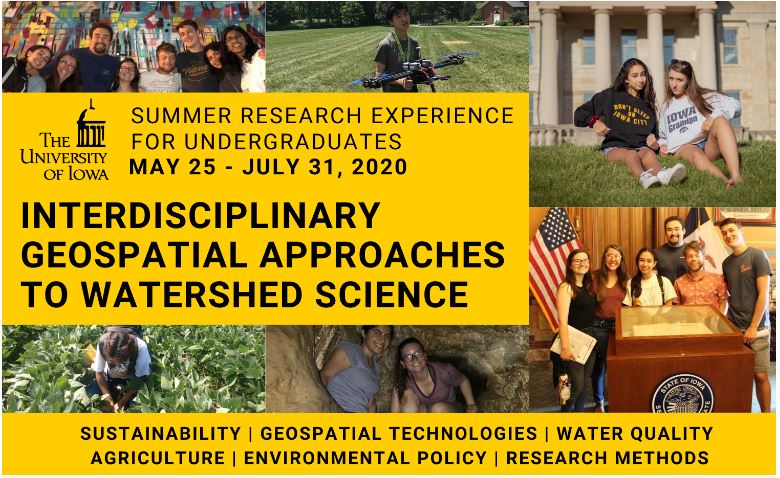 California State Parks Job Vacancies
Check specific listings for deadlines.
California State Parks posts job vacancies on the CalCareers Web site as frequently as every business day. All postings for the last 90 days are located at
Park Jobs
.  Listed positions are subject to change. Updates to these positions are online.
Should you have any job specific questions such as housing, pay, or duties, please contact the person identified under the "Application Instructions" of the advertisement. Final Filing dates are specific to the individual posting.
New Postings for the Last Seven Days Include:
Baja Basins Program
Deadline extended to : October 8, 2019
Baja Basins Program which includes field research in January 2020 in Santa Rosalia, Baja Mexico, and lab research at UMKC in July 2020. 
For more information visit: 
Upcoming Environmental Steward Positions for 2020
Environmental Steward General Position Details
Application:
Applications are accepted year-round. Next application deadline is October 21, 2019 for positions starting in January 2020.
Purpose:
MCC is dedicated to accomplishing outdoor recreation and conservation projects for the public, promoting and managing volunteer opportunities, providing conservation education, building self-esteem and leadership, strengthening the future employability of members, while raising the aspirations of members and volunteers.
Environmental Stewards serve 1700 or 900 hour terms of service and undergo orientation with MCC before being paired with a Host Site for the remainder of their term.
MCC's Environmental Stewards assist agencies with a wide variety of projects including water quality testing, wildlife protection, interpretive programming, trail improvements, volunteer recruitment, outreach, land stewardship and much more.
Environmental Steward Positions Starting in January, 2020
Check out these awesome positions upcoming for 2020!
Visit our website to view general Environmental Steward requirements, or view specific requirements under each position.
To apply for any of these positions, fill out our online application!