Internships & Career Opportunities
The best resource for you to find internship opportunities is to use Career Services events and workshops and their new HANDSHAKE portal. When departments send us internship or job opportunities we will post them here on the internship page, or under your department.
Upcoming Opportunities
Please see below for various opportunities, please refer to the hosting offices' website for details.  
Virtual Workshop on Interview Strategies
April 22 | 11:00 am – 12:30 pm 
The traditional college experience has shifted and we know how many competing priorities you have. Let us help you prepare for your next career step with this nontraditional event on interviewing strategies.

Internships/Career Postings
Contact Tracer Jobs Available
State and local governments, as well as private sector entities across the country are gearing up to onboard tens of thousands of contact tracers in the coming weeks. In an effort to streamline the recruitment process, CONTRACE Public Health Corps is building a ready-made list of over 40,000 people who are ready to serve in these roles. With state and local government budgets being hammered by the response, the greatest need right now is for volunteers. Please consider sharing this link with your students and encourage them to select "Volunteer" in their application. For questions, please reach out to CONTRACE's Research Director Matt Leger at matt@contrace.org"
https://www.contrace.org/individuals-application  
Now accepting applications for: 
DOE Scholars Program
The DOE Scholars Program introduces students and recent college graduates to the U.S. Department of Energy (DOE) mission and operations.
Why should I apply?
Being selected as a DOE Scholar offers the following benefits:
Stipends starting at $600 per week for undergraduates and $650 per week for graduate students and post graduates during the internship period
Limited travel reimbursement to/from assigned location
Direct exposure to and participation in projects and activities in DOE mission-relevant research areas
Identification of career goals and opportunities
Development of professional networks with leading scientists and subject matter experts
Eligibility
Be a U.S. citizenship
Be an undergraduate, graduate student, or recent graduate of an accredited institution of higher education majoring in science, technology, engineering, mathematics, and related areas.
Must be pursuing a degree or have received a degree within 5 years of their starting date in a science, technology, engineering or mathematics (STEM) discipline

 

or

 

have demonstrated interest or experience in a STEM field that supports the DOE mission.
How to Apply
Applications and supporting materials must be submitted at https://www.zintellect.com/Opportunity/Details/DOE-Scholars-2020
Application deadline
January 3, 2020, 4:00 PM EST
For more information: Visit https://orise.orau.gov/doescholars
Questions? doescholars@orise.orau.gov
Please share this information with friends and colleagues who might be interested in opportunities with DOE.
DOE has partnered with the Oak Ridge Institute for Science and Education (ORISE) to manage this program.
Civic Digital Fellowship Application – Open Now
About
The Civic Digital Fellowship is a first-of-its-kind internship program for innovative students to solve pressing problems in federal agencies.
Civic Digital Fellows are mission-driven software engineers, data scientists, product managers, and designers who spend their summers innovating at the intersection of technology and public service. Fellowship host agencies have included the Census Bureau, Department of Health and Human Services, General Services Administration, and the Bureau of Labor Statistics. Examples of previous Fellows' work can be found on GitHub.
The 2020 Fellowship will run from June 1 to August 7, 2020. More information and answers to frequently asked questions can be found on our website.
Benefits
The Fellowship is fully funded and all Civic Digital Fellows receive a package that includes:
A competitive stipend. We're one of the only government internships that offers students a competitive living stipend ($4,000+) for their work.

Furnished housing. Live with other Fellows and form lifelong friendships over the course of the summer.

Travel to-and-from Washington, D.C. Whether you're flying, taking the train, or driving, all domestic travel will be fully covered to and from D.C.
Outside of work, Civic Digital Fellows also have no shortage of professional and personal growth opportunities, including:
Professional programming. Past events have included a career chat with members of the U.S. Digital Service, a behind-the-scenes tour of Mapbox, a meetup in Congress with TechCongress Fellows, and networking happy hours.

One-on-one mentorship. You'll be paired with a technology professional with similar interests, and they'll be a resource to help you navigate your career journey and explore the fields of social impact and civic tech.

Cohort community of social impact technologists. Meet like-minded peers from across the country and bond over movie nights, monument walks, BBQs, bike rides, and more.
Preferred Qualifications
In the past, strong applicants have demonstrated previous involvement in the "tech for good" space, whether they were leaders of a campus club, volunteers in their local communities, or contributors to open source projects. If you don't have this experience, however, do not let it stop you from applying.
Contact
Please reference our application FAQs if you have any questions and contact fellowship@codingitforward.com if your question is not listed.
Hispanic Access Foundation's MANO Project – Intern Position
Hispanic Access Foundation's MANO Project

is currently recruiting for our Visitor Services and Urban Outreach Intern position with U.S. Fish & Wildlife Service in San Diego, CA.

We offer enriching internship experiences for Latinx students and recent graduates who are passionate about public land conservation and natural resources.

To better raise the visibility of this program, we'd like to ask for your help in sharing these opportunities with Latinx young professionals who may be interested in getting work experience with federal agencies such as U.S. Fish & Wildlife Services.

 

For more information, please read and share the attached flyer and/or our website link. Interested candidates may email Marlene Manzo at

marlene@hispanicaccess.org

.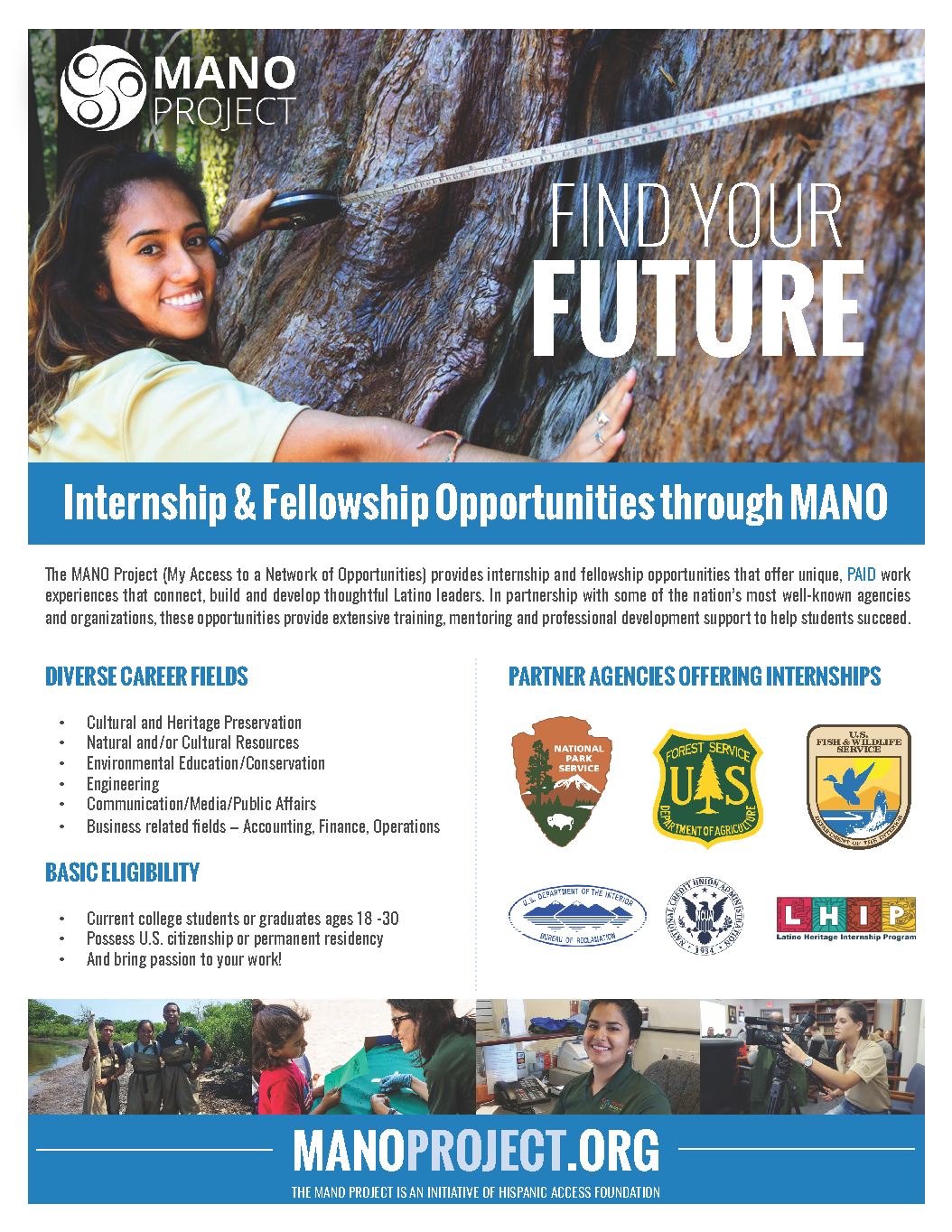 Sally Casanova Pre-Doctoral Program
The Sally Casanova Pre-Doctoral Program is a very prestigious scholarship that will benefit recipients beyond their award year. The California Pre-Doctoral scholarship program is designed to increase diversity within the pool of university faculty by supporting the doctoral aspirations of students in the CSU who have experienced economic and educational disadvantages.
In 2020-2021, the California Pre-Doctoral Program will award funds to approximately 75 juniors, seniors and graduate students in the CSU. These funds are designed to enable current students to explore and prepare to succeed in doctoral programs in their chosen field of study. Awards are based on competitive review of student applications and given to current upper-division or graduate students who, in the judgment of the review panel, demonstrate academic excellence while having experienced economic or educational disadvantage, and who are committed to a career in teaching and research at the university level. The program places a special emphasis on increasing the number of CSU students who enter doctoral programs at one of the University of California (UC) institutions.
Students who are chosen for this prestigious award are designated Sally Casanova Scholars as a tribute to Dr. Sally Casanova, for whom the Pre-Doctoral scholarship is named. As a Sally Casanova Scholar, students will have unique opportunities to explore and prepare to succeed in doctoral programs. Students will have the benefit of direct one-on-one guidance afforded from faculty members from within the CSU, and the opportunity to work with faculty from doctoral-granting institutions. In addition the program provides:
1. Travel Funds for the student to visit U.S. doctoral-granting institutions and/or to attend professional meetings appropriate to the student's development.
2. Development Funds for other related activities, such as student membership in professional organizations, subscriptions to academic journals, graduate school applications and test fees, GRE preparation, and the cost of minor research materials, for example.
3. A Summer Research Experience opportunity at a University of California campus or other U.S. major research university, fully funded by the Pre-Doctoral Program, so that the scholar can participate in doctoral-level research prior to enrolling in a Ph.D. program.
Participant Eligibility
Applicants to the California Pre-Doctoral Program must be upper-division or master's degree students who are enrolled at a CSU institution as of Spring 2020 and who will also be enrolled at a CSU campus for at least one semester of the academic year 2020-2021.
All applicants must be either U.S. citizens, permanent residents, AB 540 or undocumented students at the time of application. Current or previous Pre-Doctoral Scholars are not eligible to re-apply. Each applicant must have a faculty sponsor from the student's home campus who will be available for the duration of the plan specified in the application. The program is designed for students interested in obtaining research doctorates. Students interested in obtaining professional masters or doctoral degrees (law, medicine, dentistry, pharmacy, or an MBA degree, for example) are not eligible.
We have created three workshops that will provide information on the scholarship, requirements, application process, and deadlines.
SDSU Workshop dates:
November 22, 2019 at 9:30AM Location: Graduate and Research Affairs (SSE – 1410)
January 9, 2020 at 11:30AM Location: Enrollment Services Conference Room (SSW – 2532)
January 17, 2020 at 1:30PM Location: Enrollment Services Conference Room (SSW – 2532)
Please access this link to register for the workshop:
https://forms.gle/daBFzTcX9FM9AFWf6
For more information about the program please access this link:
| | |
| --- | --- |
| | Conduct research this summer at the nation's #1 ranked private school of pharmacy! |
Are you interested in gaining research experience working on a project under the guidance of esteemed USC faculty while learning about graduate training opportunities?
Interested in obtaining a PhD degree? Interested in drug discovery, delivery, mechanism of disease and drug action, clinical and translational studies, data science/bioinformatics, regulatory science, health outcome and economic analysis and policy development?
If so, the University of Southern California's #1 ranked private school of pharmacy has a summer program for you – our 
Summer Undergraduate Research Fellowships (SURF) 2020 Program
!
Participate in cutting‐edge research with top USC faculty

Receive a $3,500 stipend for a full‐time program during summer

 (full time, 10 weeks minimum; involvement for a longer period may depend upon project and faculty preference)

Gain experience and tools to enhance your application for competitive PhD programs

Explore the rich and diverse culture of Southern California in Los Angeles while learning about the resources and graduate training opportunities at the USC School of Pharmacy

Develop lasting friendships with fellow participants

Housing is provided in shared housing on USC's University Park Campus on a 

demonstrated financial need basis only AND is based on availability of funding

. Evidence of financial need can be demonstrated by providing your most current need-based financial aid package (FAFSA).
Program Period: June 1 – August 7, 2020
APPLICATION DEADLINE: January 17, 2020
For more information, including eligibility, refer to the application link below.
2019 Congressional Internship Application Deadlines:
•  Spring 2020 – Deadline October 21, 2019
•  Summer 2020 – Deadline December 1, 2019
•  Fall 2020 – Deadline February 15, 2020
During CHCI's paid summer and semester internships, promising Latino undergraduate students experience what it's like to work in a congressional office, while participating in weekly professional and leadership development and civic engagement through community service.
Gain Legislative Experience in Washington, D.C.
CHCI Congressional Interns learn firsthand how the legislative system works, spending four days each week working on Capitol Hill. Usually, interns are placed with a member of congress who serves a district in their home state performing meaningful work:
responding to constituent inquiries
writing policy briefs
conducting legislative research on issues such as education, health, foreign affairs, defense, science & technology, and many more
attending congressional hearings and policy briefings
For more information visit: https://chci.org/programs/congressional-internship-program/ 
2020 Lyft Economist Internship!
2020 Lyft Economist Internship is open to a 3rd-year a student pursuing BA/BS/MS in economics, math, statistics, and another field.
Deadline: Ongoing
Award Amount: paid
Internship Type: Fulltime
Applicants can get more information through the given link: Lyft Economist Internship
Link to San Diego: Data Science Trek
The San Diego EDC invites students to join them on November 15, 2019 for Link to San Diego: Data Science Trek – a full day of company visits for San Diego students curious about careers in Data Science. During each visit, students will learn how companies are using data to advance their respective missions, and hear from data science professionals and HR representatives about career opportunities in data science. Transportation is provided, with pick up points at Balboa Park and in the UTC/La Jolla area.
San Diego EDC welcomes any students who are interested in, or currently pursuing, a career in data science. Students from both community colleges and universities are invited to apply. After you register, EDC will follow up asking that you submit a resume and short description of your interest in data science.
For details and to register: https://www.eventbrite.com/e/link-to-san-diego-data-science-trek-tickets-76381157097
The Extended Application Deadline is: Friday, November 15, 2019
HACU National Internship Program accepting applications for paid internship positions for the spring with BLM, FDIC, FDA, LOC, NCUA, NIH, SAMHSA, USAID, USDA, U.S. Census, U.S. Treasury
The Extended Application Deadline is: Friday, November 15, 2019
The Hispanic Association of Colleges and Universities National Internship Program is currently seeking students to fill paid internship positions available for the spring session. The spring internship program dates are Jan. 8 – April 25, for a total of 15 weeks. 
College majors in the following areas are in high demand:

Agriculture – all related majors
Architecture
Biology
Business Administration
Communications
Computer Science
Clinical Psychology
Epidemiology
Economics
Finance
Graphic Design
Information Science
Information Technology
Public Health (Master's)
Health Services Administration
Law
Library Science
Math
Medical Translation
Nutrition
Public Administration (Master's)
Public Policy (Master's)
Statistics
Veterinary Science
PROGRAM DETAILS
HNIP is open to all majors. The spring program dates are Jan. 8 – April 25, 2019.     
Round-trip airfare to intern location included.
Housing arrangement assistance.
Intern Weekly stipends: Graduates: $680 Undergraduates: $610 – stipends determined by academic level at the time of application.
Professional development, social, and cultural activities.
3.0 GPA is recommended and not required (on a 4.0 scale).
Undergraduate or graduate student enrolled in a degree-seeking program at an accredited institution in the U.S. or Puerto Rico.
Completion of freshman year in college before the internship begins.
Recent Graduates able to participate within a year after graduation.
Authorized or eligible to work by law in the United States.

Applications for Summer 2020 are now open! Review the link below and Apply by November 1, 2019 at 11:59 pm Eastern Standard time. 
Applicants must be graduating with their first bachelor's degree between December 2020 and August 2021. Open to all majors!
The PPIA Junior Summer Institute (JSI) Fellowship Program is a rigorous academic graduate level preparation program for undergraduate juniors committed to public service careers. The program was started to address the lack of diversity across the spectrum of professional public service, including government, nonprofits, public policy institutions, and international organizations. The purpose of the JSI Fellowship is to prepare students to obtain a Master's or joint degree, in public policy, public administration, international affairs, or a related field.
For more information and to apply visit: https://ppiaprogram.org/undergrad-jsi/
The 2020 NREIP Summer Internship application period remains open until 1 November, 2019 at 6:00 pm EST
NIWC Pacific works with two summer internship programs designed for exceptional high school students and collegiate students who have an interest in a future career in the science, technology, mathematics and engineering (STEM) fields.
These internship programs provide an opportunity for students to participate in research at a Department of Navy (DoN) laboratory during the summer.
The goals of these programs are to encourage participating students to pursue science and engineering careers, to further their education via mentoring by laboratory personnel and their participation in research, and to make them aware of DoN research and technology efforts, which can lead to employment within the DoN.
————————————————————
The Naval Research Enterprise Internship Program (NREIP) is for collegiate candidates:
Lab specific eligibility criteria can be found here: https://nreip.asee.org/labs
Additional NIWC PAC lab specific information:
1) NREIP Program dates are  1 Jun – 7 Aug or 15 Jun – 21 Aug, 2020.
Online application link: https://nreip.asee.org/apply
————————————————————
For additional questions please contact the geographical NIWC PAC lab coordinator:
San Diego – Trinita Coore, trinita.coore@navy.mil , or (619)767-4156
Philadelphia – Maurice Civers-Davis, maurice.civers@navy.mil or (215) 214-8056
Hawaii – Henry Au, henry.au@navy.mil or 808-474-4179
UCLA Health Administrative Fellowship
If you're interested in getting your career off to an incredible start while making a real difference in the world, consider all you can achieve through the UCLA Health Administrative Fellowship program.
We're accepting applications for this exciting program right now. As part of the program, you'll be able to make a significant contribution to the success of UCLA Health, a world-renowned academic medical center and health system with four award-winning hospitals and more than 180 ambulatory care practices throughout metro Los Angeles. We've also been recognized as one of the top six hospitals in the country (#1 in California) by U.S. News & World Report.
Under my personal direction, this one-year Administrative Fellowship enables graduates of health administration, business administration, or related Master's level programs to gain in-depth experience in the operations of an academic medical center and health system.
To be considered for this exceptional opportunity, I invite you to apply no later than September 29, 2019. Simply visit www.UCLAHealthCareers.org, reference Job Number 2541 and include the following (in electronic form):
Statement of purpose
Statement on contributions to diversity, equity, and inclusion
Resume/CV
Current non-official transcripts
At least two letters of recommendation
Letters of reference that must be submitted separately may be emailed to AdminFellowship@mednet.ucla.edu.
I've also enclosed a flyer for two upcoming Zoom information sessions to be held on September 9th and 17th. Join us for an overview of UCLA Health, the Fellowship program, and a discussion with past and current fellows. Please feel free to share this with any students you know who may be interested in this exciting program.
To learn more, visit: https://hshr.mednet.ucla.edu/s/fellowship/fellowship_opportunities.html You may also contact us at (310) 794-1597.
Sincerely,
Richard Azar
Chief Operating Officer
UCLA Health
SDSU Career Services
For resources, workshops, events, and career advising.
Monday – Friday 8:00 am – 4:30 pm
619-594-6851 | SSE 1200
Aztec Career Connection
For all event details or to search for jobs/internships with Career Services, use Aztec Career Connection. Click the Aztec Career Connection Student Login link. Enter your SDSUid email and password to log in.
Department Advisors
Your department advisor or department may know of other opportunities available. As well as may post those opportunities on your department's Blackboard homeroom.